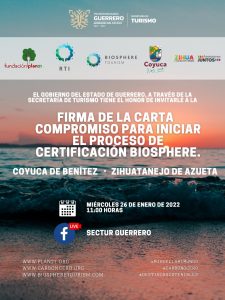 Llegó el gran día,  se firmó la Carta Compromiso para iniciar el proceso de certificación de dos nuevos destinos sostenibles Biosphere© en México: Coyuca de Benítez y Zihuatanejo de Azueta, sobre la costa del Pacífico mexicano, en el Estado de Guerrero!
Este proyecto, que será gestionado 100% por Plan21, con un equipo local en México, tendrá además otros componentes que ya iremos contando.
Estamos muy felices de seguir sumando destinos a la Comunidad Biosphere en Latinoamérica y desde Argentina!
#biospheretourism #turismosostenible #destinosostenible #sustainabletourism #sustainabledestination
The big day has arrived, because the Letter of Commitment was signed to start the certification process for two new sustainable Biosphere© destinations in Mexico: Coyuca de Benítez and Zihuatanejo de Azueta, on the Mexican Pacific coast, in the State of Guerrero!
This project, which will be managed 100% by Plan21, with a local team in Mexico, will also have other components that we will be telling you about.
We are very happy to continue adding destinations to the Biosphere Community in Latin America and from Argentina!